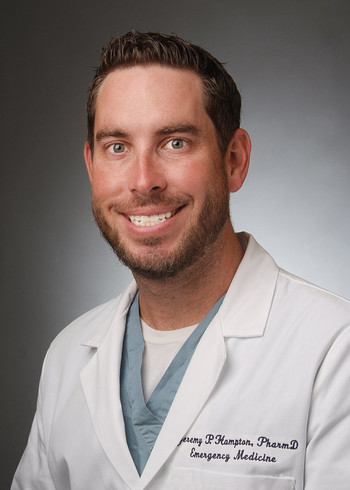 Although he is a dedicated clinical specialist in Emergency Medicine, Dr. Jeremy Hampton's heart has always been with aviation. After earning his PharmD (Doctor of Pharmacy) degree from the University of Missouri – Kansas City School of Pharmacy in 2007, he completed a pharmacy practice residency at Duke University in Durham, NC. Upon completing his residency Dr. Hampton returned to Kansas City to establish clinical pharmacy services in the Truman Medical Center Emergency Department and to become a Clinical Assistant Professor at the University of Missouri – Kansas City School of Pharmacy.
Since he was a boy, Dr. Hampton had always wanted to be a pilot and, like most kids, had planned to become an ace with the US Air Force, dueling with the enemy high over whatever conflict may be raging at the time. Unfortunately, due to the all too common curse of myopia, that dream was never able to fully unfold. In April of 2010 Dr. Hampton decided to take up photography, specifically aviation photography, with the hope that it would draw him closer to beautifully restored warbirds and the pilots who fly them, possibly earning the opportunity to take flight himself one day as an air-to-air photographer.

Since beginning in 2010, Dr. Hampton has received several awards and honors that include:

-Winner - 2011 Breitling International Aviation Photography Contest (Grand Prize: Breitling to pay for Dr. Hampton's private pilot license)

-Winner - June 2011 AirshowStuff Magazine photography contest

-Invited by Boeing in February 2011 to photograph the roll-out ceremony for the new 747-8i. Was also treated to a VIP-tour of the Everett, WA assembly facility, tours of the Flying Heritage Collection and the Historic Flight at Kilo-7 museum, and an amazing shopping spree at the Boeing Store at Paine Field.

-Named official photographer (call sign: Shooter) of the KC Dawn Patrol, a WWI replica plane flying group who describes themselves as "The young, handsome, lean, mean, firm-jawed, tough-as-nails, slim-hipped, curly-haired, thin-lipped, clean talking, flat-bellied, hairy-chested, biceps-bulging, steely-eyed, sinewy-muscled, tight-bunned, lean-shanked, milk-drinking, apple-pie-eating, chevrolet (and a few Fords) driving, clean-talking, red-blooded, pure-thought-filled, hunk-a-doodle-doo, All-American stud muffins (and studmuffinettes), and Heroic Knights of the Air.

-Winner - 2010 and 2011 Saint Luke's Hospital Photography Contest

-Awarded October 2010 cover for AirshowStuff Magazine (www.airshowstuff.com)

-Winner - October 2010 AirshowStuff Photo contest



Dr. Hampton (Shooter) is always looking for new opportunities within the aviation and aviation photography world. If you are in need of a passionate, dedicated, aviation-loving photographer who would work with you to create a personalized ground-based or aerial photo session with your aircraft, he would love to hear from you!